You are here:  

Indoor Three Level Fountain
Indoor Three Level Fountain
Indoor Three Level Fountain

Enjoy the peaceful and relaxing sounds of water flowing through this attractive fountain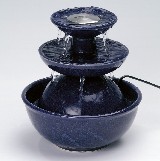 Price / COM_VIRTUEMART_UNIT_SYMBOL_:
Description
Indoor Three Level Fountain
The new Zielonka Three Level Fountain, made of high quality ceramics and with an integrated Smellkiller, not only looks stylish, but it's also practical for your home. The new Zielonka Three Level Fountain unites function with a unique design that's a real eye-catcher. This beautiful -household accessory creates a special atmosphere as well as a comfortable climate in your home. And, moreover, the integrated Zielonka Smellkiller removes all unpleasant odors in rooms up to 14 m (approx. 126 sq. feet), without using any chemicals. Powered by a very quiet pump, water flows continuously down over the Smellkiller until it reaches the bowls underneath. This lets the Smellkiller remain in constant contact with water and air, allowing it to neutralize all bad odors without using any synthetic fragrances or chemicals.
Enjoy the peaceful and relaxing sounds of water flowing through this attractive fountain. It's sure to create a pleasant atmosphere in your home, free of odor and gently humidified. The Zielonka Three Level Fountain – a valuable addition to any home.
Automatic Faucet - ABS

Traditions Pellet-Burning Stove