Manufacturer:
Coaster Fine Furniture
Results 1 - 1 of 1

Chairs

Impart ultimate relaxation with the refined look and plush feel of this upholstered chaise. Square tufting and double row stitching highlight black leatherette upholstery and create dimensionality. Complete with a delightful curve that cradles the body, this chaise is the ideal place to unwind. Pillow cushions add comfort and support just where you need it. Silver-tone feel add a modern touch to a versatile look.
Salesprice with discount:
Soap Dispensers - MIRA - 5 Styles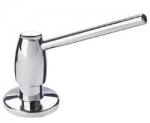 Low Profile Bronze Sink - 17.5" x 15.25"

Signature