You are here:  

Ecotraction - Effective traction agent to prevent winter slips
Ecotraction - Effective traction agent to prevent winter slips
EcoTraction is the only product of its kind in the world, and is simply the easiest, safest and most cost-effective ice management solution available.

Available in 2.27 kg/ 5lb Bag, 10 kg/ 22lb Bag, 20 kg/ 44lb Bag & 1-ton bulk tote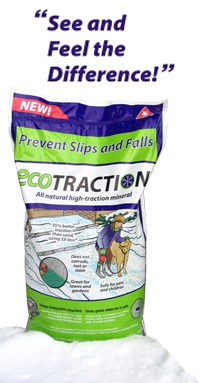 Description
Comes in all sizes:

2.27 kg / 5lb Bag

10 kg / 22lb Bag

20 KG / 44 LB Bag




1-ton bulk tote

A Revolutionary Winter Traction ProductEarth Innovations is proud to present EcoTractionTM, the world's safest and most effective traction agent to prevent winter slips and falls on icy surfaces. EcoTraction is the perfect winter traction product for consumers, businesses and cities that:• care about the environment;


• demand the best winter traction available;
• need instant traction for freezing rain or car emergencies;
• need to protect concrete or stone walkways;
• are concerned about pet and animal health;
• desire beautiful, healthy lawns & landscaping;
• want to reduce potential slip & fall liabilities;
• buy products that provide exceptional value.

Safe for Kids, Pets & Wildlife

EcoTraction is a green-colored all-natural volcanic mineral that is completely safe to touch or accidentally ingest by children, pets, and wildlife. EcoTraction also contains no salt, chlorides, chemicals, or dyes.

• Safe to touch or accidentally ingest by children, pets and wildlife
• Will not burn or damage grass or plants
• Will not corrode or damage brick, stone or uncured concrete
• Will not rust vehicles or metal landscaping elements
• Will not stain clothing or carpets
• Does not contain any carcinogenic silica dust like sand
• Contains no salt, chlorides, chemicals, or dyes

Actually Makes Lawns Lusher and Greener

Just sweep onto your lawn or garden in the Spring as EcoTraction improves soil aeration as well as water and nutrient retention, reducing water and fertilizer requirements. EcoTraction also slowly releases minerals back into the soil keeping plants healthier and lawns greener.

•

EcoTraction's unique properties help improve a soil's nutrient reservoirs, infiltration rate, aeration, and water-holding capacity. Its absorbent quality keeps water in the soil longer and its honeycomb structure helps improve the movement of air through the soil medium.

• Furthermore, each EcoTraction granule, through its high 'cation exchange capacity', also helps keep a reservoir of plant-accessible nutrients like potassium, calcium, and magnesium to replenish those removed by leaching rainfall or irrigation water. Using EcoTraction will help you water and fertilize less yet keep your lawn greener and lusher!

•

The EcoTraction mineral is OMRI Listed® as Organically Certified for Crop Production.

Minimizes Property Damage

EcoTraction doesn't melt, corrode, rust or stain like salt and ice melters. It is also completely safe for wood, metal, uncured concrete, brick or stone.

Superior Traction than Sand, Using Much Less

EcoTraction granules are like rigid sponges that embed into ice and snow. EcoTraction is the only product that provides instant "when-you-need-it" traction during dangerous ice storms and freezing rain and is all you need to keep in your car for emergencies.

Tracks Less than Sand or Salt

Anything on the ground can be tracked indoors, and all ice control products have this drawback. However, EcoTraction's lower spread rate and ice embedding power means EcoTraction tracks less than sand or salt. EcoTraction is also a softer stone than sand or gravel, making it less likely to scratch flooring.

Helps Clean our Planet from Harmful Toxins

Because it is one of the few negatively charged minerals in nature, EcoTraction acts as a magnet drawing toxins to it, capturing them in its molecular cage and permanently removing them from the environment.

Saves you Money compared to Salt and Ice Melters

Based on recommended spread rates, one bag of EcoTraction will cover the same area as nine equivalent bags of salt or ice melter! And you'll never repair your walkway or lawn from salt and ice melter damage again.

What is EcoTraction?

EcoTraction is manufactured from a hydrothermal volcanic mineral, and is a member of a special group of minerals that geologists call "tectosilicates". Simply put, EcoTraction was formed as superheated mineral-rich water, circulating in areas of volcanic activity, which crystallized and was deposited in small "vesicles" or holes within massive sequences of lava and other rocks. This process takes millions of years. Over time, a porous, negatively-charged, high surface area mineral formed with unique characteristics that make it a highly-effective traction agent that has actual environmental benefits.

How does EcoTraction provide such effective traction on ice and snow?

Each EcoTraction granule has microscopic channels that absorb the slippery layer of water found on ice, which allows it to quickly embed itself into ice and snow. That coupled with each granule's large s

surface area, multiple contact points, and rigid structure, makes EcoTraction the ultimate traction agent for slippery winter walkways and driving areas. EcoTraction is also the only product to provide "instant grip" during dangerous freezing rain storms.

Per Pallet Pricing Available ( Call For Prices )

ECO5LB 5 LB 6 BAGS/CASE = 60 CASE PALLET = 360 Bags/Pallet

ECO10KG 10 KG 88 BAGS/ PALLET

ECO20KG 20 KG 44 BAGS/PALLET
EcoTraction is the only product of its kind in the world, and is simply the easiest, safest and most cost-effective ice management solution available. Here are some of the best reasons to 'stick with green':

Superior Traction

35% better traction than sand, using 5X less
Embeds itself into ice and snow
Long-lasting grip
Fast-acting
One cup of EcoTraction covers one parking space!

Safe for You and your Property

100% safe for pets, people and wildlife
Will not corrode brick, stone or concrete
Will not rust vehicles or metal
Will not kill lawns or gardens
Will not stain clothing or carpets
Will not scratch indoor flooring

Great for the Environment

Aerates soil
Releases nutrients to plants slowly
Retains water in the soil medium
Absorbs toxins from lakes, rivers and sewage
Deodorizes clothing and rooms
Filters the air from impurities
Absorbs and traps harmful residue from ice melters

Easier to Use

Turns dark green when ice is safe
Highly-visible on ice and snow
Resists freezing or clumping
Half the weight of sand
Dark green color accelerates ice melting
Easy clean-up in the Spring
Re-usable for multiple other applications
Total peace of mind!
Units in box: 1
Signature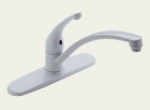 SILGRANIT - PRECIS U 1 3/4 - 33\" Undermount