Glow Boy Corn Burning Freestanding Stove Nickel Door
(Black door model shown).

NEW - Corn Burning Heater
Dansons listens to their customers! By popular demand, we have developed the industry\'s definitive corn burning stove.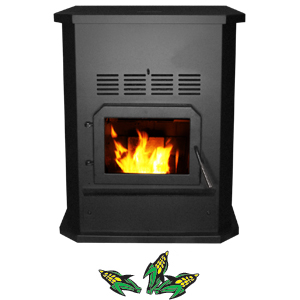 Price / COM_VIRTUEMART_UNIT_SYMBOL_:
$2,048.02
Description
NEW - Corn Burning Heater
We listens to their customers! By popular demand, we have developed the industry's definitive corn burning stove. For farmers who can grow a full crop of corn in just 13 weeks, this item is a smart choice for your heating needs. And as with all Dansons products, this stove burns wood pellets as well.
Width:




Depth:




Height:




Weight:




Fuel Capacity:




Burn Time: *




BTU/Hour: *

26 inches
24 inches
31.5 inches
225 pounds
120 lb hopper
22 to 60 hours
8000 to 42000
Our newest innovation: for $1 a day -- the going price of a half bushel of corn -- you could heat a typical single family home.
Q: I saw bags of pellet fuel at The Renovation Store. Does it cost much to burn a pellet heater or corn stove? Can one heat my entire house?
A: Pellet heaters and corn stoves are ideal for homes. Pellets are made from "home-grown" recycled sawdust, so they are earth friendly. Corn stoves burn shelled corn that can be grown in a field in a matter of weeks, making them convenient and ideal for rural homes or shops.
Pellets also Available:
40 lbs Bags
60 Bags / Skid / 1.2 Tons
| | |
| --- | --- |
| | 10 Reasons to Buy a Wood Pellet Stove |
Comfort :

Enjoy an even radiant heat

Convenience :

Forget refuelling every couple of hours! Tip the pellets into the stove, sit back and relax.

Efficiency :

Pellets boast the best fuel to heat ratio of any heating resource.

Easy clean-up :

The stove does it for you!

Low maintenance :

Enjoy the easy seasonal maintenance regimen

Clean air :

Protect your health. A wood stove maintains air quality inside and out.

State-of-the-art design :

Unique design technology for top efficiency and comfort.

Best price for best quality :

Products are manufactured to the highest industry standards.

Choice :

A wood stove for every budget. A style for every taste.
Dedicated customer service :
We takes pride in providing customers individual attention
Units in box: 1