60 X 40 LB Bag of Wood Pellets
60 - 40 Lb bags = 1 Pallet

Our premium wood pellets are manufactured for us at a new state-of-the-art pellet plant, one of the largest in the industry. The pellets are made from pure white spruce and pine fiber. The fiber is formed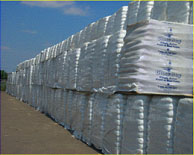 Price / COM_VIRTUEMART_UNIT_SYMBOL_:
Description
1 Pallet for $ 5.50 / Bag 40lbs x 60 Bags = 1 Pallet = 1.2 Tons
Our premium wood pellets are manufactured at Dansons new state-of-the-art pellet plant, one of the largest in the industry. The pellets are made from pure white spruce and pine fiber. The fiber is formed into pellets using moisture and pressure, without additives.
How we make premium wood pellets
Dried sawdust delivered to the plant from our sawmill.

The hammer mill prepares the sawdust for the pellet machine, creating fibers of uniform size.

The fiber is moistened with steam and rolled in the pellet machine through holes in a die, which form the pellets.

The pellets are cooled and double-screened to remove fines.

A final vacuuming removes any loose dust.

The product is then packaged in heat-sealed 40 lb./18 kg
·
Pellets are approximately 1/4 in. (6mm) in diameter, and range from 1/2 in. to 1 in. in length
·
Dansons brands of premium softwood pellets are top quality
·
100% natural: 100% pine and white spruce (no additives)
·
Energy value of 8,700 BTUs/lb. (# per kg?)
·
Ash content of .39% (comparison?)
·
Moisture content of 4.86% (comparison?)
· Double-screened and vacuumed (no dust!)
·
Exceed the EPA (Environmental Protection Agency, U.S.), Oregon and Colorado emission guidelines
San Marino 8" Pedestal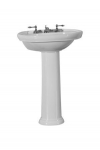 ALTA BAR - Bar Faucet