Dura-Wax
Description
BRICKFORM Dura-Wax is a metal cross-linked acrylic wax designed for use as a protective coating over a sealer such as BRICKFORM Gem-Seal, Safety-Seal, Poly-Seal, Satin-Seal or Aqua-Seal. It forms a protective semi-gloss barrier that dries to a rock hard finish and provides wear-resistant sacrificial coating that is easy to maintain. BRICKFORM Dura-Wax is a superior acrylic floor wax that stands up to the heaviest of traffic conditions. It is easily applied and can be re-coated up to 100 times without having to strip the floor. It will not powder and it can be mopped or cleaned time after time without damaging its original shine or removing its protective coating. BRICKFORM Dura-Wax is extremely durable and day-to-day wear is minimal.
BRICKFORM Dura-Wax can be used on interior or exterior masonry and concrete-type surfaces. It is perfect for commercial or residential applications and it is ideal for areas where an ongoing maintenance program is planned. It is extremely economical to use, and dries very quickly. This allows quick turnaround times. BRICKFORM Dura-Wax can be used on colored or uncolored, stamped or exposed aggregate concrete, porous brick, natural and manufactured stone, stucco, slate, glazed and unglazed tile, pavers and flagstone.
Super-Tough Film
Semi-Gloss
Interior/Exterior Use
Slip-Resistant
Kidney Lazy Susan - 24\"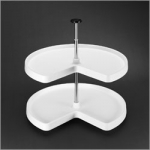 30\" Fashion Chimney