MicroEdge FLOW - 46\"
Stainless steel single bowl MicroEdge sink
Handcrafted, 18 gauge stainless steel
18/10 chrome-nickel
Rear positioned drain hole for maximum usable bowl and cabinet storage space
10 mm radius corners
3 1/2\" (90 mm) stainless steel strainer
Temp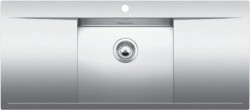 Price / COM_VIRTUEMART_UNIT_SYMBOL_:
Description
MicroEdge FLOW - Single Bowl - 46"
The BLANCO MicroEdge FLOW
Only BLANCO's precision engineering, relentless obsession for detail and perfection, and team of skilled artisans could achieve the fluidity and elegance of the BLANCO FLOW.
A perfect surface finish creates a seamless flow from the central sink bowl to double-sided draining boards. High-technology laser-welding combined with precise hand-welding of the sink bowl to drainers creates an uncanny seamless and invisible transition. The deep bowl features a perfect corner radius of only 10 mm. Edges and surfaces are meticulously reworked with liquid stainless steel and highly skilled hand-welding. The result—a consistent, brilliant surface finish.
Ultra-fine, MicroEdge rims complete the sleek, flawless flush-to-the-counter look. Easy to install, the BLANCO FLOW represents the pinnacle of BLANCO SteelArt craftsmanship and precision engineering.
| | | | |
| --- | --- | --- | --- |
| | A flushmounted sink sits in a recessed area cut out of the counter and requires special tools and skills to install with the risk of an imperfect edge. | | The MicroEdge solves this problem creating the illusion of a flushmount sink installation without the risks of complex fabrication methods. |
MicroEdge FLOW - 46"
Model

Fits
Cabinet
Bowl Depth
Main/Sec.
Cubed
Weight
24" (610mm)
10" (255 mm)

86 lb.
Stainless steel single bowl MicroEdge sink
Handcrafted, 18 gauge stainless steel
18/10 chrome-nickel
Rear positioned drain hole for maximum usable bowl and cabinet storage space
10 mm radius corners
3 ½" (90 mm) stainless steel strainer
Template
Clips included
Also Available:
516271

Grid - Precision 20" x 16"

224390

Glass cutting board PRECISION 16

406258

Cutting Board

21 7/8" x 12 7/8"

Drain Trays

224387

Colander PRECISION - S/S 16"

T

400238

Colander

Thickness: 3 3/8" (86 mm)

14 7/8" x 12 15/32"

TORRE

HARVEST
MIRA

MECHANICAL POP-UP STRAINER

3 1/2" Basket Strainer upgrade

BLANCO SOLON
BLANCO SOLO-BOX
Sink Clips
BLANCOCLEAN