Stunning Custom Glass Kitchen Island Countertops
With a remarkable blend of function and art, We offer glass kitchen countertops, backsplashes and raised bars that literally transform your eating area.
Our exclusive technology can make your kitchen glass countertops truly unique. Just imagine…
Description
Create YOUR Custom Glass Kitchen Island Countertop


ON SITE QUOTES ONLY  - or Bring/Fax/E-Mail in your blueprint/Drawing and we can provide a Quote
     
 

With a remarkable blend of function and art, The Renovation Store offers glass kitchen countertops, backsplashes and raised bars that literally transform your eating area.
Our exclusive technology can make your kitchen glass countertops truly unique. Just imagine…

Glass countertops 1.5" thick or more.
A smooth, glossy contemporary finish on every glass countertops, with a huge choice of available imbedded textures.
Custom designs of your glass countertops with infused color to create your personalized artistic touch.
Single seamless pieces made up to 7' x 10'.
Durability that rivals any common countertop product.

For the discerning homeowner, for the unique room, for a breathtaking approach to kitchen design, Thinkglass has the leading edge for your glass countertops.                                                         
Textures:


 

Natura

Our most popular texture with the designers. Beautiful and organic in feel due to a gentle flow in the patterns. It naturally blend with almost every conceivable design and take on a life of it's own

Granula

As popular as the Natura and similar, it has a more uniform flow in the pattern.

Craco

Our version of crackled glass. A soft texture with sporadic lines resembling a natural crackling effect.

Minima

Minimalist, clean and crisp, virtually textureless.

Brossa

Sweeping brush strokes creating a soft directional pattern.

Dropa

Like freshly fallen raindrops creating a unique water like pattern.

Vaga

Wave like pattern, resembling the sea, most popular for ocean side residences.

Pebblo

Heavily textured with small water like bubbles , most popular for bathroom vanities and accent pieces

Terra

Resembling an earth like pattern.

Pauma

Small indentations create an unusual pattern for unique spaces.
36mm (1.5")


This is our standard thickness. Feel the depth of our textured glass.                    

 

48mm (2")


When you want or need just a  little extra!                                 

 

72mm (3")


Make a statement with your glass countertop.

 

96mm (4")



The ultimate thickness.
Colors:
 Crystal-Standard Color
The Designer's choice is a low iron glass which provides exceptional light transmission, and depending on the thickness, ranges from virtually colorless to light blue in appearance. A clear choice for many applications!

 
 Aqua -Standard Color
The natural color of glass, inherently green and deep in color.
Edge Treatments:
 
Each Glass countertop can be finished with any one of these beautiful edge treatments.
 
 

Polished        

Sleek and modern, this edge profile provides pure depth and sophistication achievable only with thick glass

 
 

Textured      

Like a piece of chiseled rock, this edge profile is rugged looking yet soft to the touch, popular with both contemporary and traditional designs.

 
 

Brushed

Our latest edge profile,a perfect linear design, modern and unique

 
 
 

Artistic Applications: 


These are the custom colors that can be mixed together for imbedded art by Mailhot.

 

 

 

 

 

 Artistic Applications: 

 

 The splendor of our artglass countertop by Mailhot.



 
 

Lighting:

 
| | | | |
| --- | --- | --- | --- |
|   |   | | |
| Cold White | True White | Cyan | Blue |
| | | | |
| Green | Amber | Fuschia | Red |

 
We now offers a full LED solution for all your lighting needs in order to further highlight your glass countertop. The most powerful LED's on the market to illuminate kitchens, bar tops, raised bars, and outdoor kitchens!

No other countertop material can offer you such versatility along with the possibility of transforming your glass to suit your mood or special event. In addition, Master Glass Artist, Michel Mailhot can create a custom artistic countertop which can be illuminated and further enhanced with lighting.

Below you will see some of the available colors. Please note, that AlterEgo, our lighting consultant can customize the lighting to fulfill your specific request.

Color Options:

1.  True white, 4100k with transformer
2.  RGB, which gives you the possibility of hundreds of different colors, programmable with a remote control, to create any desired mood! This allows you to pick a specific color and even have the colors change, fade in and out, strobe, etc.....
 

Artistic Applications:
 
Combine texture and shape with a colored or metalic substrate to make your see-through glass countertop even more revealing and dazzling.
(Substrate not provided by The Renovation Store).
We recommend a metallic or glossy finish to enhance the light in the countertop. Stainless, chrome, glossy white and copper are the most used colors.
Coil Element Cooktop w/Porcelain Top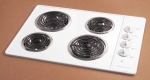 PULSE Tropicana ShowerSpa