You are here:  

Kentwood Pellet BBQ, Stainless Steel
Kentwood Pellet BBQ, Stainless Steel
Kentwood Pellet BBQ, Stainless Steel
A wood-pellet fuelled BBQ big and hot enough to cook up a family of burgers in no time. Sleek stainless steel appearance makees for a classy deck or patio!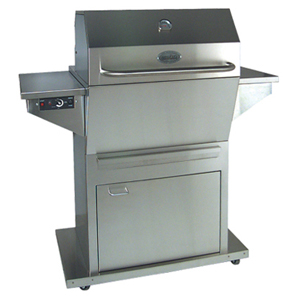 Price / COM_VIRTUEMART_UNIT_SYMBOL_:
$1,848.12
Description
Kentwood Stainless Steel -

Wood Pellet BBQ
FEATURES:
Heavy double-lined hood: gives better heat retention & allows for all-season cooking

2 cast iron grills, 408 square inch cooking surface

Convection cooking: eliminates the need for a rotisserie

Heat output 45000 BTUs

Auto-igniter for easier startups (no more fluids or gels!)

Flavor Guard cooking grate: enhances amount & quality of smoke, eliminates flare-ups

Full range temperature control: 200-600 ° F

Independent smoke control

Engineered top fed auger system for even fuel delivery

Front ash drawer/grease pan

2-sided stainless steel shelf

Heavy duty casters: move well on any surface, lock into place

Height: 48" Width: 46" Depth: 30"
Why Buy A Louisiana Grill Barbecue?
THE TASTE IS WHY PEOPLE BUY.


If you are like most people, you crave that REAL WOOD FIRED FLAVOR that Lousiana Grills barbecues offer. Our flavored pellets draw out the flavor, making your meal all the more succulent and savory.

IT\'S EASY TO WORK WITH!

Our high efficiency auto-igniter eliminates the need for fire gels and starter fluids. Anyone in the family can fire up the grill with the push of a button!
NOW WE\'RE COOKING! (CONVECTION COOKING)

Because the air is forced by combustion fan, you can achieve convective cooking with your Louisiana Grill. This eliminates the need for a rotisserie, gives more even cooking temperatures and allows your meat to retain its natural juices.

IT\'S THE CHOICE OF PROFESSIONAL BBQ\'ers!

Our smallest grills can cook a 20 pound turkey to perfection... Professional chefs from all across the US and Canada enjoy the overall robustness, quality and cooking ability of our grills!

WHY JUST \'GRILL\'?

With a Louisiana Grill, you can SEAR, BAKE, BARBECUE, SMOKE, ROAST AND GRILL your foods with amazing results.

COOK YOUR FOOD MORE EVENLY THAN ON A GAS GRILL.

One of the reasons for the popularity of gas grills these days is that they heat up fast and cook even faster. However, no flavor is imparted to your food, and thus you are forced to utilize a myriad of spices and sauces to flavor your dinner. A Louisiana Grill, on the other hand, will give you that REAL WOOD FIRED FLAVOR while eliminating the messy chore of wood chopping. We manufacture FLAVORED

WOOD PELLET

FUEL in mesquite,hickory, alder and apple flavors.

Units in box: 1