You are here:  

4 Burner 70,000 BTU Propane Gas Barbeque
4 Burner 70,000 BTU Propane Gas Barbeque
4 Burner 70,000 BTU Propane Gas Barbeque
54 (W) X 25 (D) X 48 (H) inches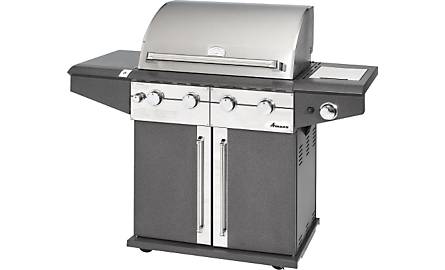 Price / COM_VIRTUEMART_UNIT_SYMBOL_:
Description
Party Size Gas BBQ: Total Cooking area 678 square inches, Primary 504 Square Inches, plus Warming Rack 174 square inches.
Heat Output: Total 70,000 BTU's - 3 Independent # 304 Stainless Steel Tube Burners plus 1 INFRARED SEAR Burner, 1 Infrared Rear Burner, 1 Infrared Sideburner
Infrared Main Sear Burner: 11,000 BTU - INFRARED SEAR Burner to instantly lock in juices and flavor
Infrared Side Burner: 10,000 BTU - INFRARED side burner with protective Stainless Steel Lid. NEW technology.
Infrared Rear Rotisserie Burner: 11,000 BTU - INFRARED Rotisserie burner for restaurant flavor results. The Infrared heat seals in the juices for superior flavor and tenderness.
Stainless Steel Rotisserie Kit: Included Electric Motor, Spit Rod with locking Meat Tongs
Stainless Steel Hood: Double walled Hood to retain heat while cooking. Heat Indicator mounted on the lid
Stainless Steel Cooking Grids: # 301 restaurant grade STAINLESS STEEL Cooking Grids, maintain heat throughout the grilling process, are hygienic and long lasting.
Porcelain Coated Flavor Tents: Positioned over the burners Minimize Flare-ups. Juices and fats vaporize on contact to impart flavor to the food. Surplus fats drain off the tents channeling the flow to the grease container, thereby reducing flare-up. Note: no flavor tent over the Infrared Sear burner
Electronic Ignition: Battery Operated ( AA )
Large Control Knobs: Rubber grips for easy operation
Powder Coated Heavy Duty Steel Cabinet: Textured Speckled Brown Powder Coated Steel BBQ Cabinet and Side Tables. Painted Powder coat surfaces are easy to clean and keep clean.
Disappearing Casters: Large Heavy Duty Casters are recessed. Two locking casters.
Full Length Cover: Included Full Length Vinyl Cover to protect your investment from the outdoor elements
Warranty: 5 year Limited Warranty
Undermount 11" - SUPREME U 1 1/2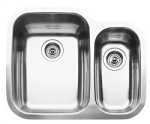 Novi Heated Shelf - E7503