Ledge Stone Panels
Ledgestone, Price per Panel
Panel = 2.00 Square Feet

Available in Light Brown Blend, Grey Blend, Dark Brown Blend, Black Blend, Grey Brown Blend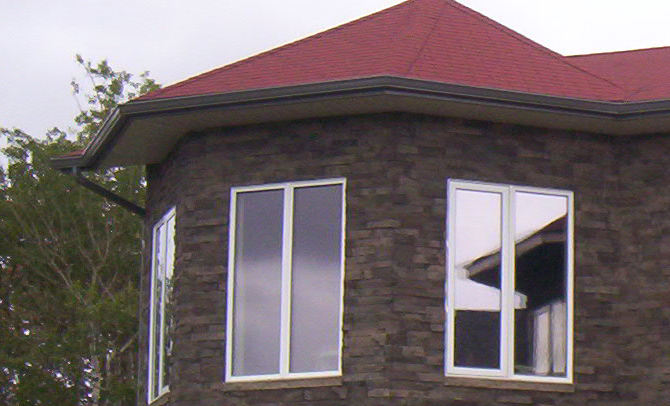 Price / COM_VIRTUEMART_UNIT_SYMBOL_:
Description
Quality Stone set out to change the stone industry in four ways. To create the most REALISTIC, HIGH QUALITY, AFFORDABLE, and INSTALLER FRIENDLY stone product on the market. We feel we succeeded...
Authentic Look - Our stone panels are cast from real stone, so every detail of the stone's texture is accurately fingerprinted and transferred to our products.

Lightweight – Our stone weighs as little as 1 lb / sq.ft, eliminating the need for lift equipment or extra labor.

Durable - Our products are manufactured of impact resistant structural polyurethane, with a titanium oxide surface. Quality Stone is manufactured to endure the harshest of elements.

"Installer Friendly" – Thanks to our patented tongue and groove system, all you need is 3 screws on the top of the panel, and the bottom locks in place. Our products are easily cut using standard woodworking tools.

Cost Effective - The installation time and cost for our products are substantially less than all other stone products and conventional masonry, increasing your total savings on the project. Additionally, application requires labor with general carpentry skills.

Versatility - We have products for both interior and exterior applications, from fireplaces to large commercial buildings. The number of applications is endless; going places traditional masonry cannot.

Additional Insulation Value - Quality Stone adds R-Value to homes and commercial structures, saving energy.

Low Maintenance - Quality Stone Products require No Painting, Waterproofing, or UV treatments.
Ledge Stone Panels
Light Brown Blend
Grey Blend
Dark Brown Blend
Black Blend
Grey Brown Blend
| | |
| --- | --- |
| | Ledge Stone Panel, the moulded corner panels allow for quick and easy installation without the need to miter corners. These corner panels speed up your entire installation and allow for a perfect uniform look to all of the corners in your project. |
Full Panel:
The soft lines and smooth textures of Ledge Stone maintain bold and rugged feel of the mountains.
With 6" x 48" face, Ledge Stone provides a subtly rustic look for any residential or commercial project.
Product Description:
Every piece of Quality Stone's product line has been precisely cast off of real stone. All stones
used are carefully chosen for their rich texture, shape, and size. Then colors are chosen and
added into the process to provide the realistic and rich details of real stone. This technology is
combined into an interlocking panel system, making it quick and easy to install. The high density
polyurethane used to create our panels, allows for a very lightweight veneer Stone Panel with the
look and feel of real stone. All products have been designed for a wide array of climates and
applications. Quality Stone can be applied at any temperature, and can be applied over masonry,
wood, metal, and just about any other surface. Whether it is a residential, commercial, or
industrial application, our products have been engineered so that no additional structural or
foundation support is required.
Quality Stone products are made of 98% closed-cell structural polyurethane, incorporating fire
retardants, and a titanium oxide finish which is highly UV resistant. All products should not be
installed at or slightly below grade. This has less to do with the product as it does not wick
moisture; but more to do with eliminating a direct pathway for insect infiltration and frost heave
from saturated soil.
We have no testing data to support use in an underwater environment.
Limitations:
Quality Stone products do not add to the structural load bearing capacity of the substrate to which
it is being applied. All products have been designed for wall installation only, and should not be
applied anywhere that they will be walked or sat on. Care should also be taken when installing in
an area where a lawn trimmer or a snow blower will be coming in contact with the product.
Product Specifications
DIMENSIONS AND WEIGHT
| | | | | |
| --- | --- | --- | --- | --- |
| Product | Dimensions | Weight | Box | Pallet |
Length

(in)

Height

(in)

Thickne

ss (in)

(lbs)

Items/

box

Total

lbs

Boxes/

pallet

Total lbs
STACKED STONE
Panels
48
6
2
2.87
12
34.44
22
757.68
Corner Panel
20
6
2.5
2.5
12
30
22
660

24" High Outside

Corner (4 staggered

lengths)

6 / 8. / 11. /

14.

24
2.5
5.5
14
77
6
462
LEDGE STONE
Panels
48
6
2
3.5
12
42
22
924
Corner Panel
20
6
2.5
5.5
14
77
6
462

24" High Outside

Corner

(4 staggered lengths)

6 / 8. / 11. /

14.

24
2.5
5.5
14
77
6
462
CASTLE STONE
Panels
48
12
1.5
6.17
12
74.04
12
888.48
Corner Panel
20
12
1.5
24" High Outside

Corner

(2 staggered lengths)

6 / 8. /
24
1.5
5.5
12
66
6
396
LEDGE TRIM
48
2.5
1–3

taper

2.15
19
40.85
22
898.70
EDGE TRIM
48
2.5
2
1.64
28
45.92
22
1010.24
STARTER STRIP
48
3/4
1/2
50
n/a
n/a
n/a
TITEBOND ADHESIVE
10.3 oz
12
STONE FINISH

(caulk)

10.3 oz
12
WEATHERMASTER
10.3 oz
12
COVERAGE
Product
Sq.ft per PIECE
Sq.ft per BOX
Sq.ft per PALLET
Stacked Stone
Panels
2 sq.ft
24 sq.ft
528 sq.ft (22 boxes)
Ledge Stone

Panels

2 sq.ft
24 sq.ft
528 sq.ft (22 boxes)
Castle Stone
Panels
4 sq.ft
48 sq.ft
576 sq.ft (12 boxes)
Tile Stone
Panels
4 sq.ft.
48 sq.ft
576 sq.ft (12 boxes)
Piece (Linear Ft)
Box (Linear Ft)
Pallet (Linear Ft)<

Parq Deck-mount Kitchen Bridge Faucet

SILGRANIT - DIAMOND U 2 - 32" Undermount

Signature