You are here:  

12" x 12" Composite Decking
12\" x 12\" Composite Decking
We offer a composite decking that is low maintenance, simple to assemble and suitable for indoors and outdoors with long-lasting durability

Per Square Foot Pricing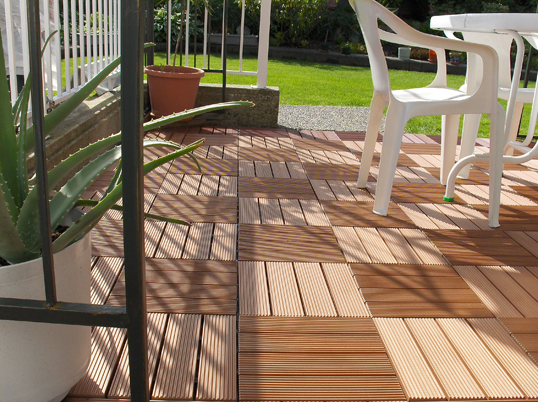 Price / COM_VIRTUEMART_UNIT_SYMBOL_:
Description
Per Square Foot Pricing
Our products, made from an innovative material called wood plastic composite, captures the advantages of both wood and plastic. Our company has replaced the traditional decking and railing with enhanced features and qualities. This new generation of technology allows for maintenance free satisfaction and longevity in our products. In addition, unlike our competitors' who uses the extrusion process to manufacture their extrusion composites materials, Shantex uses state-of-the art injection process to manufacture our injection composite materials. For more information about the different advantages of injection compoover extrusion composites please contact us.
This innovative decking system can be laid virtually over any leveled surface, its applications include:

Patios
Gardens
Terraces
Verandas
Balconies
Sun decks
Courtyards
RV decking
Spa and hot tubs
Pool decks
Playgrounds and parks
Our primary product is the Shantex WPC Decking Tile. A state-of-the-art do it yourself decking system designed to withstand the elements. Specifically created to be installed by any home handyman with few tools, this system allows you to beautify your deck in as little as a single day.
Color

The color which we offer the North American market is cedar.
Size

The Shantex Composite Decking Tile measures:30 cm (1ft) x 30 cm (1ft) x 2.2cm (0.94in)

Interlocking Mechanism

The interlocking mechanism of Shantex Decking Tiles means that it can be laid over virtually any leveled surface making it a "floating" deck. And since the tiles interlock, they are not screwed, nailed, or glued to the surface in any way, thus not damaging the surface underneath. In addition, since it is a "floating" deck and not a permanent one, it is very easy to take with you one day if you decide to move. A unique plastic grid base allows water drainage under the tiles. The open structure of the plastic base allows for good air circulation, which prevents mold growth in damp and dark locations.
Criss-Crossing Pattern

Even with only one color, because of the criss-crossing pattern of the tiles, your decking will appear to have two distinct colors.
Wood Plastic Composite (WPC) is homogeneous material in which our company utilizes, combining wood fibers and plastic. It captures the durable strength of plastic, while maintaining the natural aesthetics of wood. The plastic in this material is able to protect against moisture, insects, rot and decay. Wood fibers help defend against UV light, preventing potential warping and fading.

WPC does not require painting or coating and is maintenance free, excluding occasional cleaning. Presently, WPC is being used in various fixtures such as decking, railing, fencing, roofing and more. WPC is a recyclable material and as a result help towards contributing to environmental sustainability. Our company has been able to take this diverse combination of materials and transformed them into constructive products, offering maintenance-free durability and appeal.
Ste Michelle Pedestal