You are here:  

Baliza - Pull Out Kitchen Faucet
Baliza - Pull Out Kitchen Faucet
Baliza: Pull Out Kitchen Faucet

Available in chrome, bronze and stainless

Options Available: Dish Towel Hook, Bud Vase & Optional Escutcheon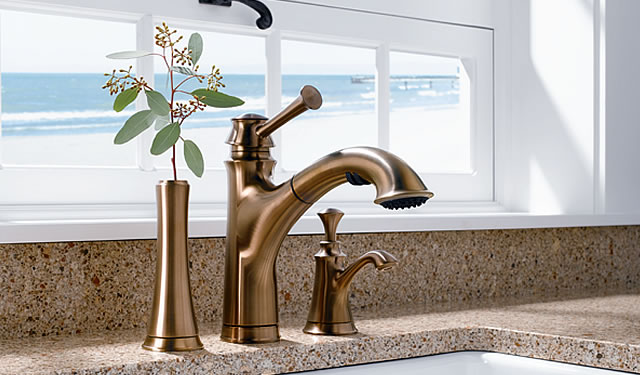 Price / COM_VIRTUEMART_UNIT_SYMBOL_:
Description

Baliza - Pull Out Kitchen Faucet
Baliza effortlessly combines the timeless and the modern. Wrapped around its classical form is cutting-edge innovation, including a four-function pull-out wand that attaches with new MagneDock™ Technology. Baliza is the first pull-out or pull-down kitchen faucet to allow water volume to be controlled from the wand.
Nautical Lighthouse inspires Baliza's timeless design.

Cutting-edge technology in Baliza's classic form.
Four-function pull-out wand offers spray, stream, volume and pause control.
Exclusive MagneDock(tm) technology uses a magnet to securely lock wand in place.
Consumer-preferred pull-out wand provides greater ease of use.
Matching accessories allow for a coordinated look - including soap dispenser, dish cloth hook, and bud vase.
Lifetime Faucet and Finish Warranty

Available Finishes:
63005-PC
63005-BZ
63005-SS
Also Available:
Baliza Dish Towel Hook
Baliza Bud Vase Assembly
Baliza Optional Escutcheon w/ Installation Hardware