Round - Stone Undermount w Overflow - 15.75" in 12 Finishes
Round Undermount with Overflow:
15 3/4" D x 6" H

Availible in:
Antique Forest,
Black Marquine,
Blue Stone,
Beige Travertine,
Coral Stone,
Crystal White,
Dark Emperadore,
Galala,
White Marble,
Strata Marble,
Honey Ony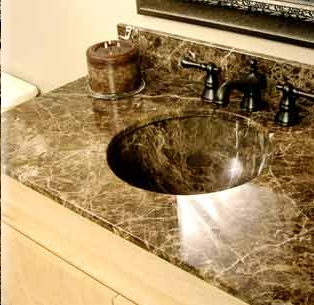 Price / COM_VIRTUEMART_UNIT_SYMBOL_:
Description
D'Vontz Under Counter Wave Round Copper Sink - With Overflow
 
Length:  15 3/4 Inches

Height: 15 3/4 Inches   
 


Height:

6 Inches



Fits:

 1 1/4 Inch Drains                                               

 

Under Mount Basin with Overflow

A traditional look with the beauty that only natural stone can acheive.

Drain: 1-1/2"
15-3/4" diameter x 6" H

Image shown in Dark Emperadore Marble. Countertop not included.

NOTE: Due to variance in natural materials, color and veining will vary.

Antique Forest Marble, Beige Travertine, Black Marquine Marble, Coral Stone, Crema Rossa Marble, Dark Emperadore Marble, Honey Onyx, Strata Marble, and White Marble are commonly stocked. All other stones have a 4-6 week lead time.

 

Shown in Dark Emperator.

 
 
Stone Care Don'ts and Recommended Products
Don't use vinegar or cleaners that contain acids...such as tile, tub, toilet and grout cleaners. Don't use powder cleansers, soft cream cleansers (SoftScrub, etc.), mildew/mold removers (TileX, X14, etc.), disinfectants (Lysol, etc.) or abrasive nylon scrub pads. - There are available safe disinfectants that have been formulated that can be used around and on stone surfaces. Don't use furniture polish (Pledge, Jubilee, Endust, etc.) on stone surfaces. Use a stone polish; this will help minimize staining and etching on furniture, counters and vanities.
Don't use the cork and wood container protectors. These can cause severe stains.
Recommended Products
If you use some basic care tips for your stone it will remain beautiful for many years to come. There are many Manufactures that offer quality stone care products. We recommend and use Stone Care International products for the stone that we sell. Our sinks include a basic care kit of cleaner, sealer and polish to help maintain your marble and granite. Maintaining your stone is as simple a process as maintaining any bath countertop and sink surface. 

Cleaning: Recommended Daily / Weekly
MARBAMIST...Counter/Vanity/Table Top Stone Spray Cleaner A ready to use stone cleaner. It is a gentle premixed formula. Just spray it on wipe it off. This is USDA authorized and is ideal product for the kitchen to cleanup grease and as a general purpose cleaner this product is pH7 balanced.

Polishing: Recommended Monthly
INTERNATIONAL STONE POLISH...Protects and Polishes A protective coating that will polish, and enhance the brilliant colors of natural stone. Not intended for floors use, the polish will protect and provide a natural gloss to stone countertops, vanities, walls, and stone furniture. Simply apply it to the surface by hand and polish with a soft dry cloth. The polish will also help prevent staining and etching on the surface by providing a durable protective barrier

Sealing: Recommended Every Two Years
SPRAY-N-SEAL.Prevents Staining and Discoloring A water based penetrating sealer that protect natural stone surfaces from staining. It is wonderful for stone countertops, floors, walls, vanities and even grout. This below surface sealer is also ideal for sealing all types of masonry, stucco, concrete and sanded grout. It has a special blend of polymers that bond to the stone and creates a water and oil repellent membrane to prevent staining, yet it allows the stone to breathe and release moisture vapors. It is safe for interior and exterior use and is UL Classified for slip resistance. This stone sealer will not alter the color of any stone, tile or grout.
Hand Painted - Vessel

STONE VESSEL SINK - Various Colors