Bathroom Renovations
We're your one stop shop for bathroom renovations. Here you'll find a wide vareity of everything you need sinks and toilets to ceilings and tiles.
Manufacturer:
Nova Floors
Results 1 - 1 of 1

Nova Floors
1.5 mm real stone or natural slate (high resistant PU layer) 1.5 mm high density cork composite 6.8 mm HDF (High density, moisture-retardant fiber board 1.2 mm cork underlay
Salesprice with discount:
Price / COM_VIRTUEMART_UNIT_SYMBOL_:
Barrymore 4" Pedestal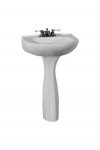 Zen Series: Symphony Set - 35.5"