You are here:  

Elipse Collection - 25 - 84" Combinations
Elipse Collection - 25 - 84" Combinations
Combinations from 25" - 84"
Those who appreciate rounded forms will be charmed by the Elipse collection. The curved sink and rounded lighting fixture reflect each other in perfect harmony.
Description

 Elipse Collection - 25" - 84" Combinations
 
 
 
 

Doors and drawer fronts: Heritage Style in MDF Lacquer, Satin Vanilla Color (L-95). 
Vanity top: Polymer in Biscuit Unimar Finish (U-96).

 

 

Doors and drawer fronts: Contemporary Style in Maple Wood Veneer Stained in Pear (E-16). 
Vanity top: Polymer in White Unimar Finish (U-00).

 
       
 
 Contemporary tub podium - Maple wood, stained in Arabika E-21
 

Doors and Drawer fronts: MDF Maple Wood Stained in Maroon (E-19-O). 
Vanity top: Bianco Perle Natural Marble (M-BP).

 

 

In perfect harmony with the furniture.
Easy to install.
Toe-kick adjustable to the floor gradient.
Can accomodate a therapeutic air or whirlpool system.
Side panels are removable to give easy access to the plumbing or therapeutic systems.
Side panels can tilt-out to offer optional storage compartments.
Great flexibility of layout to fit the wall positioning and the bathtub shape.

Size Combinations: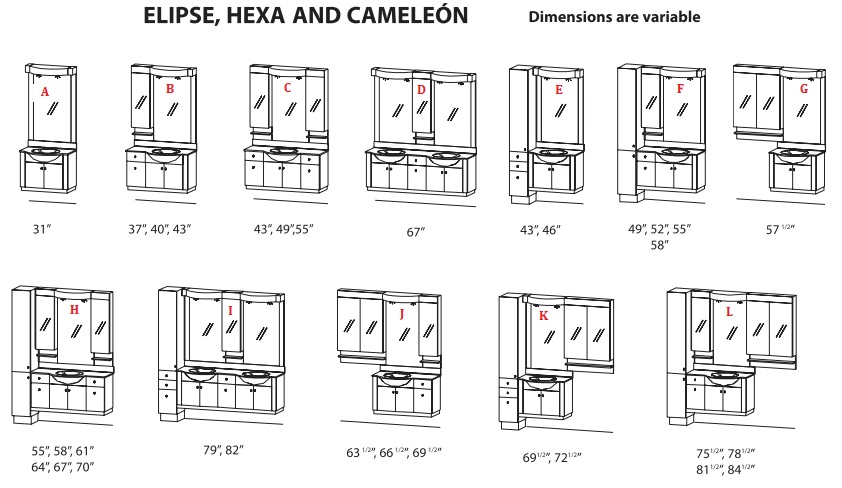 Door Style:

 
 

| | |
| --- | --- |
| Optimum Series |        Contemporary |

Description :

A classic style that favors the elegant simplicity of straight lines. No molding to interrupt the linearity of doors and drawer fronts.

 

Finishes :

- Wood veneer
- Laminate
- Melamine

Contact The Renovation Store for more information on our finishes.

 

Description :

This style features raised panels for doors and drawer fronts. The molding is different depending on the finish material.

 

Finishes :

Solid Wood
MDF wood
MDF lacquer & MDF oxidized lacquer
Thermo

Contact The Renovation Store for more information on our finishes.

 

| | |
| --- | --- |
| Optimum Series | Innovation |

Description :

Melamine doors and drawerfronts with integrated molding. 

 

Finishes :

This style of door exists only in melamine. 

Contact The Renovation Store for more information on our finishes.

 

Description :

This style is characterized by doors and drawer fronts with grooves that form the Shaker-inspired frame.

 

Finishes :

Solid Wood

MDF wood
MDF lacquer
Thermo
Contact The Renovation Store for more information on our finishes.

Vanity Tops & Sinks Style:

 
 

Description :

Strong and homogenous composite covered with ultra-resistant gelcoat polyester resin.

One-piece vanity top, 3/4-inch thick.
Faucet holes single, 4" or 8" included.
Impact and scratch-resistant.
No visible joints: eliminates mildew around the basin.
Non-porous, stain-resistant.
Compliance Certifications: CSA B-45; IAPMO/UPC; ANSI Z124.3;  Listed in State of Massachusetts.
5-year warranty.

Finish: Unimar (Ultra-brilliant), Satine (matte) or Nacryl (pearl finish).

Colors: White (00), Biscuit (96) and usual bathroom colors.

 

Maintenance :

Unimar or Nacryl: Clean with a soft cloth or sponge and a non-abrasive bathroom cleaner. Never use abrasive creams or powders.

 

| | |
| --- | --- |
| Optimum Series | Natural marble |

Description :

3/4-inch marble top.
Faucet holes single or 8" centre included.
2 coats of water-resistant sealant and 1 coat of stone wax applied in our factory.
Undermount polymer bowl installed.

Colors:

M-BP Bianco Perle, white bowl (00). 

Maintenance :

Clean with a soft cloth and lukewarm water only. Once a month polish with a protective wax.

Note: Natural marble can be damaged by chemical or agressive agents such as toothpaste, perfume, shaving cream, etc. In case of spills, remove immediately these products from the surface to avoid damage.

 

| | |
| --- | --- |
| Optimum Series | Engineered Marble |

 

Description :

Made of 95% selected natural marble pieces bonded with a special polyester resin. This Greenguard Indoor Air Quality Certified marble is made in Italy.

Features:

3/4-inch marble top.
Faucet holes single or 8" centre included.
2 coats of water-resistant sealant and one coat of stone wax applied in factory.
Undermount bowl installed.

Advantages:

Greater uniformity of color & lighter weight than natural stone.
Maintain the eye appeal of quarried marble while offering greater level of consistency and strength.

Colors: 

M-PE  Perlato  
M-AU  Aurora  
M-NA  Napoleon 
M-RA  Rasotica
M-SA  Salina
M-FI    Fiorito

*12" x 12" x 1/2" Tiles available. 

Maintenance :

Clean with a soft cloth and lukewarm water only. Once a month, polish with a marble protective wax.

Note: Agressive chemicals, acids or abrasive agents such as toothpaste, mouthwash, perfume, shaving cream, cosmetics, etc. must be used with great care. In case of spills, remove immediately these products from the surface to avoid damage.

 

Description :

Polished glass with translucent surface tinged by a colored opaque bottom.

3/4-inch thick.
Faucet holes single or 8" centre included.
Non-porous, stain-resistant.
Strong, durable and easy-to-care. 

Colors:

Indoor Fountain - Green

Gemini - 38 & 48\" Round Shower