You are here:  

BreezeDry - Line Dried Freshness, Eco Friendly Dryer
BreezeDry - Line Dried Freshness, Eco Friendly Dryer
The BreezeDry system is an advanced drying appliance that offers a gentle, eco-friendly alternative to traditional dryers.
> eliminates clutter, hassle of drip-drying
> reduces energy use up to 90%
> protects fine clothing, delicates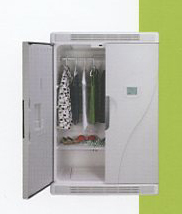 Price / COM_VIRTUEMART_UNIT_SYMBOL_:
Description
A Breakthrough in Meeting All Your Drying Needs

The BreezeDry system is an advanced drying appliance that offers a gentle, eco-friendly alternative to traditional dryers.

BreezeDry was invented out of necessity. Like you, we share a concern for the environment and wanted to save energy. We love line-dried freshness, but even the most dedicated environmentalist can't dry outside during the spring rains or in the Canadian winter snowstorms.

Like you we had bathrooms & showers filled with a tangle of drip-drying delicates. And we dare not toss beaded and sequined clothing or delicate fabrics into a tumble dryer.

So our engineers, who create advance components for industries ranging from medicine to transportation, developed a NEW appliance, one that is much more convienient, faster & easier than drying outdoors or drip-drying
Simply hang your clothes inside or lay them on racks in the cabinet.

An easy to use touch screen lets you choose either natural, eco- friendly outdoor air, indoor air or gently warmed air to perfectly and safely dry your clothes. Clothes come out freshly dried every time.

Sophisticated precision sensors monitor moisture directly from the clothes to ensure efficient, perfect drying every time.

Modular design can

easily be
incorporated into

new construction
or remodeling projects.
Broan - Designer Series - Light Fixture/Fan

Cyprus (SWCS) Non-Stocked