You are here:  

Navien - Condensing Tankless Gas Water Heaters
Navien - Condensing Tankless Gas Water Heaters
The Ultimate in Energy Effciency with Hi-Tech Comfort. Can supply a unlimited amount of hot water at a steady tempture whenever you need it and for as long as you need it, creating a more comfortable living enviroment.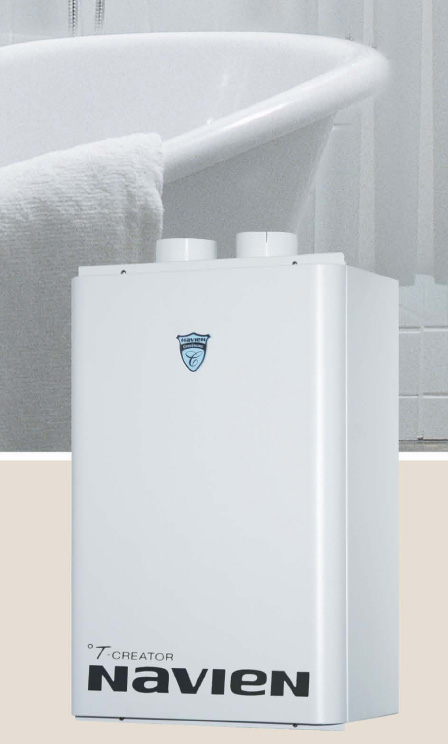 Price / COM_VIRTUEMART_UNIT_SYMBOL_:
Description
Because this product boasts the industry\'s
highest efficiency, rating (98%) means
customers can cash in on low annual operating
costs as well as receive the best payback,

compared with conventional tankless or tank-type water heaters. Navien\'s Condensing 98% Tankless also enjoys the highest gallons-per-minute (GPM) when comparing input BTUs.

Built-in Circulation Pump with Mini Buffer




Tank.

"A" Models Only

Delivers hot water to fixtures quickly resulting in
water conservation.
No minimum flow rate: get hot water even at very
low flow rates of 0.1 or 0.2 GPM
Eliminates any hot/cold/hot stacking, the so-called
"Cold Water Sandwich".
Saves additional money and time by eliminating
the pump purchase cost and on-site installation
costs.

Prevents heat exchanger from freezing.

If over half of water heaters are \'A Series models\' in
Ready-Link® Cascade System, \'Non-A Models\' can
be used as part of multi-unit systems. This allows
hot water circulation system as well as water
savings with low costs.

Space Saving

A Navien occupies approximately 90% less
space than a tank-type water heater. In addition,
a Navien mounts on your wall freeing up 100% of
traditionally lost floor space.

Remote Control

Advanced water heater diagnosis capability and error feedback

Touch activated banklight function and Easy-to-Use button type control

Built-in recirculation timer for water and energy savings

Key-pad lock button prevents inadvertent temperature changes

Temperature adjustment 1 ËšF increments.
Residential CR A Models

Commerical CC A Models

CR-180A

Input

15,000~150,000 BTU/h

Thermal Efficiency

98.8%

Energy Factor

0.98

Flow Rate

At 35ËšF Rise : 8.4 GPM
At 45ËšF Rise : 6.5 GPM
At 77ËšF Rise : 3.8 GPM

CC-180A

Input

15,000~150,000 BTU/h

Thermal Efficiency

98.8%

Energy Factor

0.98

Flow Rate

At 35ËšF Rise : 8.4 GPM
At 45ËšF Rise : 6.5 GPM
At 77ËšF Rise : 3.8 GPM

CR-210A

Input

17,000~175,000 BTU/h

Thermal Efficiency

98%

Energy Factor

0.95

Flow Rate

At 35ËšF Rise : 9.8 GPM
At 45ËšF Rise : 7.6 GPM
At 77ËšF Rise : 4.5 GPM

CC-210A

Input

17,000~175,000 BTU/h

Thermal Efficiency

98%

Energy Factor

0.95

Flow Rate

At 35ËšF Rise : 9.8 GPM
At 45ËšF Rise : 7.6 GPM
At 77ËšF Rise : 4.5 GPM

CR-240A

Input

17,000~199,000 BTU/h

Thermal Efficiency

97.3%

Energy Factor

0.98

Flow Rate

At 35ËšF Rise : 11 GPM
At 45ËšF Rise : 8.6 GPM
At 77ËšF Rise : 5.0 GPM

CC-240A

Input

17,000~199,000 BTU/h

Thermal Efficiency

97.3%

Energy Factor

0.98

Flow Rate

At 35ËšF Rise : 11 GPM
At 45ËšF Rise : 8.6 GPM
At 77ËšF Rise : 5.0 GPM

Residential CR Models

Commerical CC Models

CR-180

Input

15,000~150,000 BTU/h

Thermal Efficiency

98.8%

Energy Factor

0.98

Flow Rate

At 35ËšF Rise : 8.4 GPM
At 45ËšF Rise : 6.5 GPM
At 77ËšF Rise : 3.8 GPM

CC-180

Input

15,000~150,000 BTU/h

Thermal Efficiency

98.8%

Energy Factor

0.98

Flow Rate

At 35ËšF Rise : 8.4 GPM
At 45ËšF Rise : 6.5 GPM
At 77ËšF Rise : 3.8 GPM

CR-210

Input

17,000~175,000 BTU/h

Thermal Efficiency

98.8%

Energy Factor

0.98

Flow Rate

At 35ËšF Rise : 9.8 GPM
At 45ËšF Rise : 7.6 GPM
At 77ËšF Rise : 4.5 GPM

CC-210