Patio/Garden Doors

Prices are Installed
Retractable screen doors allow everything you love about the outdoors into your home without the bugs and dirt you hate. The retractable build makes it compact and the tight weave keeps it stronger than you can imagine.
Salesprice with discount:
Price / COM_VIRTUEMART_UNIT_SYMBOL_:
Copper 36" Apron Sink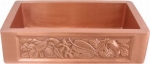 Zen Series: Toccata Set - 31.5"