You are here:  

Stainless Steel Nail Brush
Stainless Steel Nail Brush
Stainless Steel Nail Brush

Use it after gardening or preparing food. The elegant Zielonka high-grade steel nailbrush makes your hands feel fresh and clean again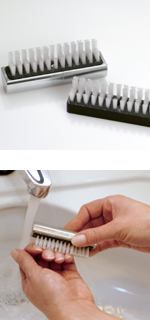 Price / COM_VIRTUEMART_UNIT_SYMBOL_:
Description
Stainless Steel Nail Brush
Use it after gardening or preparing food. The elegant Zielonka high-grade steel nailbrush makes your hands feel fresh and clean again. The half-round base is made to fit comfortably in your palm. The two different-sized bristles make it easier for you to scrub under and around nails at the same time.
And if the brush should ever wear out, you can easily replace it with a new brush which is attached to the indestructable metal base. What a great way to save money. Our patented high-grade stainless steel base neutralizes all unpleasant smells as soon as it comes into contact with air and water.
Just rub the rounded base of the brush between your hands for 10 to 20 seconds and all those onion, fish or garlic odors disappear. You can remove dirt and odor at the same time with the Zielonka stainless steel nailbrush.