You are here:  

Shoe Smellkiller (Pair)
Shoe Smellkiller (Pair)
Shoe Smellkiller (Pair)

The Zielonka Shoe Smellkiller keeps your feet and shoes smelling fresh. This new, ultra thin Zielonka product is inserted into your shoe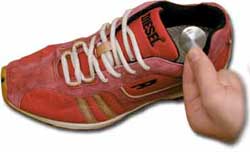 Price / COM_VIRTUEMART_UNIT_SYMBOL_:
Description
Shoe Smellkiller (Pair)
The Zielonka Shoe Smellkiller keeps your feet and shoes smelling fresh. This new, ultra thin Zielonka product is inserted into your shoe. The double backed adhesive tape makes sure it doesn't slip while you're wearing the shoe. And it's easy to remove, too. The specially alloyed Zielonka high-grade stainless steel neutralizes all odors in your shoes, and without using any synthetic perfumes or chemicals. The Smellkiller works with air and moisture. Now you can throw away all of those irritating foot sprays and creams!
Instructions: The Zilo Smellkiller is inserted directly into the shoe, but make sure you stick it in a place where you won't feel it when you're wearing the shoe. As a rule, this is generally located in the middle of the shoe underneath the instep (see diagram 1). If the shoe fits securely, you can just place the Smellkiller in the shoe and wear as normal. However, for shoes that are loose fitting, such as Wellingtons or rubber boots, we recommend securing the Shoe Smellkiller with a thin double-sided adhesive tape. But first, remember to remove all dirt and oil from the inside of the shoe and from the Zilo Smellkiller. Both surfaces must be completely dry for the tape to hold. Mark a place in the shoe where you want to adhere the Smellkiller. Stick the adhesive tape first on the Smellkiller and then position it on the area marked in the shoe and press firmly.

Warning: Before inserting the Zilo Smellkiller, you must first remove any traces of oil or dust by washing it under warm running water with a detergent. The Smellkiller does not stop you from sweating it just stops odors developing. Before you stick the Smellkiller into your shoe, remember to try to find a position where you will not feel it when you're wearing the shoe. Please note that strong adhesive tapes (such as carpet tape) may damage the inside of the shoe when you try to remove the Smellkiller.
Suitable for: men and ladies' shoes, all types of sneakers. Find the right spot and insert the Smellkiller into the shoe.