You are here:  

Ashtray with Smellkiller
Ashtray with Smellkiller
Ashtray with Smellkiller

Even the heaviest smokers are often annoyed by the stink of stale cigarettes that just hangs in the air at home or in the office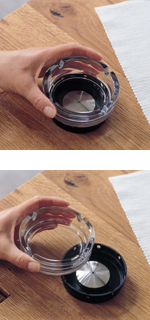 Price / COM_VIRTUEMART_UNIT_SYMBOL_:
Description
Ashtray with Smellkiller
Even the heaviest smokers are often annoyed by the stink of stale cigarettes that just hangs in the air at home or in the office. It doesn't matter how much you air the room, the smell just doesn't go away. And even if you empty your ashtray regularly, that irritating odor of cigarette butts, cigars or pipe tobacco continues to pollute the air.
The Zielonka Ashtray with integrated Smellkiller removes at the source all traces of stale cigarettes. Stubbed out cigarettes don't even have a chance to develop foul, nasty odors. The Zielonka Smellkiller was specially developed for regular-sized ashtrays with a diameter of 10.5 cm (4 inches). The Smellkiller (the metal disc) is screwed into the plastic container supplied, and then placed underneath the ashtray. The Smellkiller starts to neutralize all odors as soon as it comes into contact with air and water. The holes on the side of the container ensure air keeps circulating and that the Smellkiller never stops removing all traces of stale cigarette odor.
If you prefer, and in addition to the effectiveness of the Smellkiller, you can place the stylish silver Volcano (included in the package) in the ashtray. Just stick the burning end of the cigarette in the metal cylinder and after a short seething inside, the cigarette's extinguished!