Hitzer - Coal Burning Free Standing Heater
Hitzer - Coal Burning Free Standing Heater. EFFICIENCY
The Model 254 is a smaller unit which can be used in homes of 1800 square feet or less. It provides the uniform, clean, smoke-free and efficient heat that customers have come to expect from all Hitz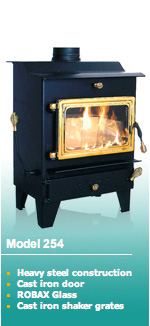 Price / COM_VIRTUEMART_UNIT_SYMBOL_:
Description
Hitzer - Black Coal Burning Free Standing Heater
Other Colors Available, Brown, Charcoal, Blue Metallic, Forest Green
( Special Order min 8 Weeks )
EFFICIENCY
The Model 254 is a smaller unit which can be used in homes of 1800 square feet or less. It provides the uniform, clean, smoke-free and efficient heat that customers have come to expect from all Hitzer units.

VERSATILITY
This versatile unit will fit any location and burn either anthracite or bituminous coal. What's more, it adds beauty to your home while keeping you comfortable on a cold winter day.

MINIMUM CLEARANCES TO COMBUSTIBLE MATERIAL:
Unit to Sidewall: 18" Flue to Sidewall: 27"
Unit to Backwall: 18" Flue to Backwall: 21"


FLOOR PROTECTION
Either unit must be placed on a noncombustible floor or use a listed floor protector, extending 16" in front and 8" to the sides and back of the unit

OPTIONS
Colors: Black, Charcoal, Honey Glo Brown, Blue Metallic or Forest Green Blower 134 CFM Blower




Model 254:

Width

Depth

Height

Unit

24 1/2"

21"

33 1/2"

Firebox

19 1/2" "

13"

18"

Door Opening

17"

-

10 1/2 "

Glass

15 9/16"

-

9"

BTU Rating: 45,000 - 55,000 BTU's

Flue Size - 6" Diameter
Minimum Hearth Pad Requirements:
Standard 48 x 48"
Corner 40 x 40 x 49"
Overview:

This sturdy ash bucket has just the right features to take care of ash residue fast, simple and easy.

3 Sizes Available:
• 13 1/2 x 12 1/2 x 11
• 13 1/2 x 20 x 11
• 13 1/2 x 24 x 11

Features:

Lightweight yet strong construction
Baffled inside to prevent dust from escaping when filling
Balanced handle for easy carrying and dumping
Brass hinges and knob
Choose standard Black, Charcoal, Honey Glo Brown, Metallic Blue, Forest Green colors.
Options - An attractive addition to any fireplace decor