Delta
Check out our selection of Eco-friendly products and help reduce your carbon footprint.
Delta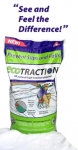 EcoTraction is the only product of its kind in the world, and is simply the easiest, safest and most cost-effective ice management solution available. Available in 2.27 kg/ 5lb Bag, 10 kg/ 22lb Bag, 20 kg/ 44lb Bag & 1-ton bulk tote
Salesprice with discount:
Price / COM_VIRTUEMART_UNIT_SYMBOL_:
$11.93
Profile Pellet Stove 30 FS-2

The \"O\"