You are here:  

MANHANDLES COLLECTION - Pull MH110
MANHANDLES COLLECTION - Pull MH110
MANHANDLES® COLLECTION

Unique and beautiful pulls can be found in the Manhandles collection of figures that grace cabinets, doors, appliances and furniture. Used alone or along with coordinating decorative hardware from the other Collections, they crea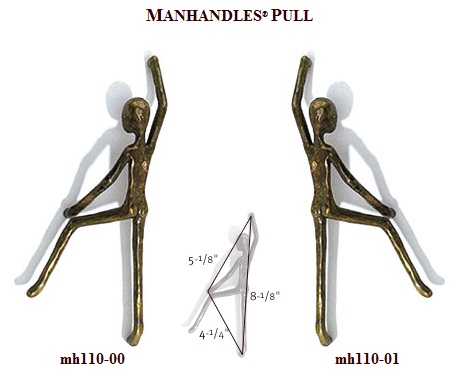 Price / COM_VIRTUEMART_UNIT_SYMBOL_:
Description



MANHANDLES® COLLECTION


M

ANHANDLES®

C

OLLECTION




Unique and beautiful pulls can be found in the Manhandles collection of figures that grace cabinets, doors, appliances and furniture. Used alone or along with coordinating decorative hardware from the other Collections, they create an artistic focal point.


The Doormen™ of the Manhandles collection are four luxurious right and left facing 18" pulls. Not only are they stylish, but they are conveniently useful with plenty of projection for anyone. These artistic pulls are available for back-to-back installation.


Hang-ups™ from the Manhandles collection are figures uniquely positioned to hold a variety of items. Hang your coats on their arms or drape your towels through their legs. You'll find a place for these hooks in any room.


Designed by Cari Jaye Sokoloff.


7-1/2" head to toe, overall height will vary based on position.


1-3/8" projection


Due to the handmade nature of Jaye Design's production process, measurements will vary slightly.


To accommodate your existing installations, many of Jaye Design's products can be created with custom center-to-center spacing for an additional fee.



 

Jaye Design LLC's products are manufactured in two materials, hand cast bronze and hand cast stainless steel. These materials are available in thirteen standard finishes and custom finishes. Slight color and shade variations are inherent in the chemical patina process. When ordering additional product to be used in conjunction with previously purchased product, a sample is strongly recommended to ensure closest finish match. Every effort has been made to finish our products in a protective way; however, bronze will inevitably darken as it ages. Photos and descriptions are not ideal representations of finishes and finish samples may be purchased for clarification.