You are here:  

SILGRANIT - NOVA 5S - 34" Drop In or Undermount Reversible
SILGRANIT - NOVA 5S - 34" Drop In or Undermount Reversible
SILGRANIT single bowl sink with drainboard.

Minimum cabinet size 21" (535mm)
80% solid granite

Drop In or Undermount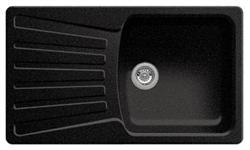 Price / COM_VIRTUEMART_UNIT_SYMBOL_:
$635.50
Description

SILGRANIT - NOVA 5S - 34" Drop In or Undermount
Natural Granite Sinks
Beauty and performance

carved in stone
Made of 80% natural granite, SILGRANIT® combines the textural beauty of nature with unmatched strength and durability. High-quality acrylic bonds the material giving the sink an unsurpassed hardness and scratch resistance. With its ultraresistance to chipping and staining, and a heat resistance of up to 280°C (536°F)-SILGRANIT® is the most durable and easy-care sink material available today.
Model

 
 Fits
Cabinet 
 Bowl Depth
Main/Sec. 
Cubed 
Weight
21" (535 mm)
7 1/2" (190mm)
61 lb.
21" (535 mm)
7 1/2" (190mm)
61 lb.
SILGRANIT® single bowl sink with drainboard
Minimum cabinet size 21" (535mm)

80% solid granite

Reversible: drainboard can be installed on left or right

Large, practical drainboard extends workspace

3 ½" (90 mm) stainless steel strainer

Overflow

Installation specification sheet

Undermountable with clips #406251 and added support
  

401076


     Café


400809


Anthracite

 
Use colours as a guideline only. Colours displayed may not match actual colour.
Also Available:
 
 

Single lever, pull-out faucet

Solid lever handle
Pull-out hand spray
Flexible braided stainless steel inlet hoses
52" grey braided nylon spray hose
Ceramic disk cartridge
Solid brass construction
Limited Lifetime Warranty

Available 3rd quarter 2010

401020

 

New

Chrome/Anthracite

401021

 

New

Chrome/Café

 
 100% Canadian Maple cutting board.

406258

 
 Stainless steel mesh colander.

400238

 
 Stainless steel crockery basket and stack.

406291

 

Soap dispenser

.

Solid brass construction
15 fl. oz. capacity bottle
Refillable from above
5 year warranty on pump

| | |
| --- | --- |
| 400601 | Chrome soap dispenser. |
| 400537 | Stainless steel soap dispenser. |
| 400693 | Anthracite soap dispenser. |
| 400694 | Bronzed Cafe soap dispenser. |
| 400695 | Stone Biscuit soap dispenser. |

 
 

Soap dispenser

.

Solid brass construction
15 fl. oz. capacity bottle
Refillable from above
5 year warranty on pump

| | |
| --- | --- |
| 402984 | Chrome soap dispenser. |
| 402985 | Stainless Steel soap dispenser. |

 
 

MECHANICAL POP-UP STRAINER

| | |
| --- | --- |
| 406244 | Mechanical pop-up stainless steel strainer |

 
 

3 1/2" Basket Strainer upgrade

 

| | |
| --- | --- |
| 406243 |  Stainless Steel (Upgrade) |

 
 

| | |
| --- | --- |
| 512336 | SOLON drop-in stainless steel waste management system. |
| 512472 | SOLON undermount stainless steel waste management system. |




512336

512472

Ideal for food wastes, the SOLON stainless steel bin can be conveniently installed next to the sink
Includes frame, 7 litre bin and lid
Frame, lid and 7 litre bin made of high-grade stainless steel
Easy-to-clean and dishwasher safe

 
 

| | |
| --- | --- |
| 406300 | Chute, stainless steel rim and lid |
| 406299 | Optional frame, 16 litre bin and collar |




406300

406299

The SOLO-BOX chute can be used to direct waste to a receptacle below the counter or the optional 406299 can be added to collect waste. The chute from the 406300 fits inside the collar of the 406299 to ensure any refuse thrown down the chute is collected in the bin.

 
 

Sink Clips

| | |
| --- | --- |
| 406250 | Clip to undermount drop-in sinks. |
| 406251 | Package of 10 undermount clips |
| 407301 | Undermount clip for Stainless Steel undermount sinks. |
| 406252 | Extension clip for thick countertops or any solid surface material 1 - 1 3/4" thick. |

 
 

BLANCOCLEAN

To clean, polish and maintain the original luster of your sink, BLANCO has developed two special, non-abrasive cleaners.

406200

Coloured sink and surface cleaner 450 ml.

406201

Stainless steel cleaner 450 ml.

406210

12 pack coloured sink cleaner

406211

12 pack stainless steel cleaner

406212
Units in box: 1