Mirolin - Medallion - Tub/Shower
Soaker: M160L/R - 1-piece tub and shower - left or right hand fixture.

Also available in: Whirlpool, Jet Air & Combo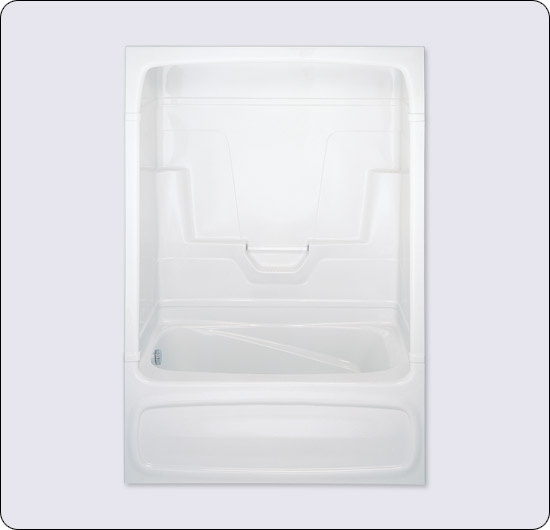 Price / COM_VIRTUEMART_UNIT_SYMBOL_:
Description
Mirolin - Medallion - Tub/Shower 60"W X 32"D X 86"H 153W X 81D X 218.4H cm
Soaker: M160L/R - 1-piece tub and shower - left or right hand fixture.
Whirlpool: AWM160L/R - Whirlpool 1-piece Tub and Shower with 8 Pure Steam jets featuring 6 side and 2 foot whirlpool jets, (standard colours) and removable apron.

More Power!
All Mirolin whirlpool bathtubs have equipped with the latest in whirlpool jet technology to offer a new upgraded whirlpool system. The Pure Stream jets are far superior to the commonly used standard whirlpool jet. Each Pure Stream jet is fully adjustable in both direction and flow. This provides more hydrotherapy to the bather reducing stress and many of the aches and pains associated with our increased activity levels. We offer the Pure Stream jets in white, bone, biscuit, grey, polished chrome, polished brass, and brushed nickel.
Jet Air: TM160L/R - 1-piece Tub and Shower system featuring14 chrome or brass air jets.

Be Caressed!
Surrender yourself to a sense of overall comfort and well-being. Our Jet Air® system offers exceptional therapeutic and pain relieving benefits for a massage designed to relax both the mind and body. Air jets are strategically placed along the side of each bathtub, creating thousands of relaxing air bubbles that caress and stimulate the senses for a massage of pure indulgence. Every Jet Air® system comes complete with a convenient bath-mounted electronic control pad to adjust speed and rate of pulsation ... at your fingertips! Our Jet Air® systems are available standard in polished chrome and also available in all standard colours, polished brass or brushed nickel.
Combo: ATW160L/R - Combination Whirlpool Jet Air 12 air jets and 8 Pure Steam jets featuring 6 side and 2 foot whirlpool jets (standard white or chrome).

Why Choose!
Have the best of both... hydrotherapy and air massage together. By combining our Acripulse whirlpool and Jet Air® systems, we have put all the benefits of the jetted systems to work for you. Individually, simultaneously, or alternating the two systems can be combined for the ultimate in bathing enjoyment. Quite simply it's the best system to choose when designing that customized retreat in your new bathroom. Systems come standard in white and polished chrome. Polished brass or brushed nickel are available for an additional charge.
Recommended Door: M35 - Tri-Panel Door
MODEL#
DESIGNED TO FIT
GLASS PATTERNS
Pebble
Horizon
Sails
Raindrop
Clear
Mirror
M33
SH3 - SH33
M34
S48 - S483
M35
M160 - M360
M36
314836AC
M37
326032A
M39
KD53L/R
M40
SH5LS/RS - SH53LS/RS
M41
TS5L/R
M42
SH3L/R - SH33L/R
M43
SH4 LS/RS - SH43 LS/RS
360
60" opening
7153-57SA* 2 Panel
876032D
7465R-45SA* 2 Panel
874835B
SNA38
ASP38SND