Shower Column SHCM-2050
List price 802.00

Anodized aluminum body in satin finish
Self-cleaning 7" square overhead shower
Four square and two round body sprays
Multifunction square hand shower
3-position water control diverter (sprays, top shower and hand shower)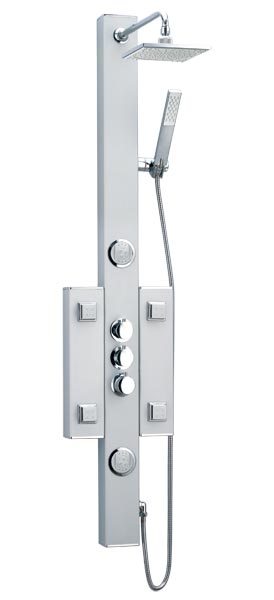 Price / COM_VIRTUEMART_UNIT_SYMBOL_:
Description
Shower Column SHCM-2050
List price 792.00
With features like a hand held shower, adjustable body massage sprays, large top shower head and individual water controls, DreamLine™ shower panel turns your ordinary shower into a home spa. Add other elements of design like shelves, mirrors and accessory compartments, and your shower not only gets a beauty facelift but also becomes more functional. Installation is easy with only a hot and cold water connect and fast mounting on wall-attached brackets. Choose from models made of aluminum, acrylic or stone and a variety of options for the right solution for your shower.
 

Anodized aluminum body in satin finish 

Self-cleaning 7" square overhead rain shower 
Four square and two round body sprays 
3-position water control diverter (sprays, rain shower and hand shower) 
On/Off valve control 
Thermostatic mixer control 
Visible plumbing fixtures in chrome finish 
Back-to-wall installation
Dimensions: 18-1/8" D x 11-3/4" W x 58-1/8" H

 

 

 

 

 

 

Note:

○ Professional installation is required

○ Plumbing codes vary by state/province; DreamLine™ & The Renovation Store Ltd are not responsible for code compliance