Mirolin - Tucson 60\" Tile Flanged
Soaker: TA6032L/R - 5 ft. tile-flanged bathtub with arm rests Also Available in Whirlpool/Jet Air/Combo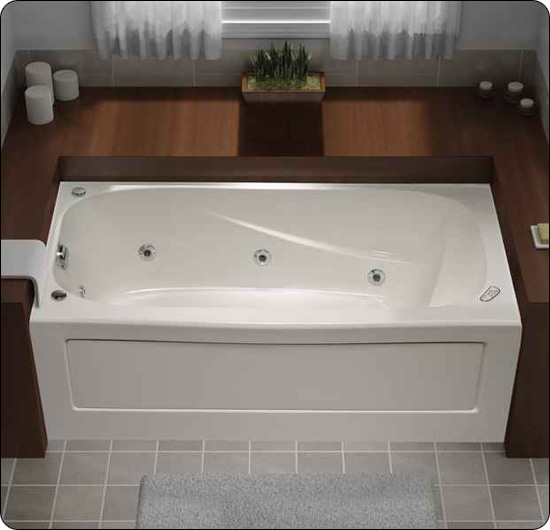 Price / COM_VIRTUEMART_UNIT_SYMBOL_:
Description
Soaker: TA6032L/R - 5 ft. tile-flanged bathtub with Arm rests.
60"W X 32"D X 20"H
152.4W X 81.3D X 50.8H cm
Whirlpool: TAS6032L/RAW - 8 Pure Stream jets featuring 6 side and 2 whirlpool jets, 3/4 HP motor, electronic timer.

More Power!
All Mirolin whirlpool bathtubs have equipped with the latest in whirlpool jet technology to offer a new upgraded whirlpool system. The Pure Stream jets are far superior to the commonly used standard whirlpool jet. Each Pure Stream jet is fully adjustable in both direction and flow. This provides more hydrotherapy to the bather reducing stress and many of the aches and pains associated with our increased activity levels. We offer the Pure Stream jets in white, bone, biscuit, grey, polished chrome, polished brass, and brushed nickel.
Jet Air: JA6032L/RD - Deluxe Jet Air -14 chrome or brass air jets and electronic control.

Be Caressed!
Surrender yourself to a sense of overall comfort and well-being. Our Jet Air® system offers exceptional therapeutic and pain relieving benefits for a massage designed to relax both the mind and body. Air jets are strategically placed along the side of each bathtub, creating thousands of relaxing air bubbles that caress and stimulate the senses for a massage of pure indulgence. Every Jet Air® system comes complete with a convenient bath-mounted electronic control pad to adjust speed and rate of pulsation ... at your fingertips! Our Jet Air® systems are available standard in polished chrome and also available in all standard colours, polished brass or brushed nickel.
Combo: JTAS6032L/RW - Combination Whirlpool Jet Air - 12 air jets and 8 Pure Stream jets featuring 6 side and 2 whirlpool jets (standard white or chrome).

Why Choose!
Have the best of both... hydrotherapy and air massage together. By combining our Acripulse whirlpool and Jet Air® systems, we have put all the benefits of the jetted systems to work for you. Individually, simultaneously, or alternating the two systems can be combined for the ultimate in bathing enjoyment. Quite simply it's the best system to choose when designing that customized retreat in your new bathroom. Systems come standard in white and polished chrome. Polished brass or brushed nickel are available for an additional charge.
Options
Description
List Price
Whirlpool Upgrade
Factory Installed whirlpool heater
265.00
Upgrade to polished chrome
135.00
Upgrade to polished brass
250.00
Upgrade to brushed nickel
250.00
JetAir Upgrade
Upgrade to colour coordinated (Standard Colours Only)
N/C
Upgrade to polished brass
N/C
Upgrade to brushed nickel
90.00
Combination Upgrade
Upgrade to polished brass
240.00
Upgrade to brushed nickel
345.00
GENERAL SPECIFICATIONS
WEIGHT: Tub & Shower 32 kg ( 70 lbs)
Whirlpool 48 kg ( 105 lbs)
Jet Air 36 kg ( 180 lbs)
Combination 52 kg ( 115 lbs)
BATHING WELL DIMENSIONS 635 mm x 1245 mm (25" x 49")
CAPACITY TO DRAIN OVERFLOW 209 litres (46 gallons)
MIN. OPERATING LITRES (GAL.) 159 litres (35 gallons)
BATH TUB WATER DEPTH FROM DRAIN TO OVERFLOW 13" (330 mm)
DRAIN OPENING 51mm (2" DIA.)
OVERFLOW OPENING 64 mm (2 1/2" DIA.)
DRAIN TO FLOOR CLEARANCE 70 mm (2 3/4")
ELECTRICAL SPECIFICATIONS
WHIRLPOOL PUMP/MOTOR 3/4HP, 7.6 AMP, 120V
JET AIR BLOWER 7.5 AMP, 120V
Best Bathroom Fans - QTRE Series

Plaque - Izzy\'s Bird Plaque