Bathroom Renovations
We're your one stop shop for bathroom renovations. Here you'll find a wide vareity of everything you need sinks and toilets to ceilings and tiles.
Fiat

•Spacious 6' length •2 integrally molded shelves •2 integrally molded back rests •Faucet deck in the centre of the back wall •Offset drain LH only •Textured sump •Suitable for above floor rough in •1" screw flange for easy fastening to studs •Bot
Salesprice with discount:
Price / COM_VIRTUEMART_UNIT_SYMBOL_:
Leland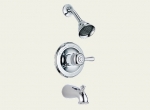 Zen Series: Sonata Set - 35.4"