You are here:  

Copper Border Tiles - Various Styles & Sizes
Copper Border Tiles - Various Styles & Sizes
2\" x 6\", available in a variety of patina finishes.

Also optional accessories available.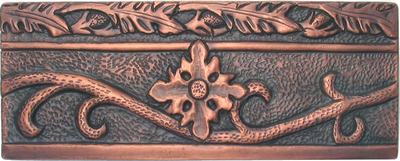 Price / COM_VIRTUEMART_UNIT_SYMBOL_:
Description
2" x 6"
PATINA FINISH
New Penny
Old Penny
Oil Rubbed Bronze
Gold Bronze
Coffee
Plum
Desert Rose
Old Nickel Silver
OPTIONAL ACCESSTORIES
PATINA FINISH
Egg shell
The benefits of tiling
Tiles are the perfect choice for any home,office or work place. Because they are:
Easy to clean
Aesthetically pleasing
Last a lifetime
Meet health regulations for commercial applications
Nom porous-impercious to everything
Many different finishes to suit all tastes&styles
Hand hammered copper tiles, Enhance your kitchen and bath design with Real metal tiles.
Hand Hammered copper tiles back filled with fast dry cements mixed with color sand.
No Special care required for installation.