You are here:  

BRIZO - Quiessence Collection
BRIZO - Quiessence Collection
The minimalist style of the Quiessence collection brings retro European design to America. It borrows a design philosophy from the 1950s and applies it to the technology found today. Two simple, perpendicular lines intersect creating a bold statement that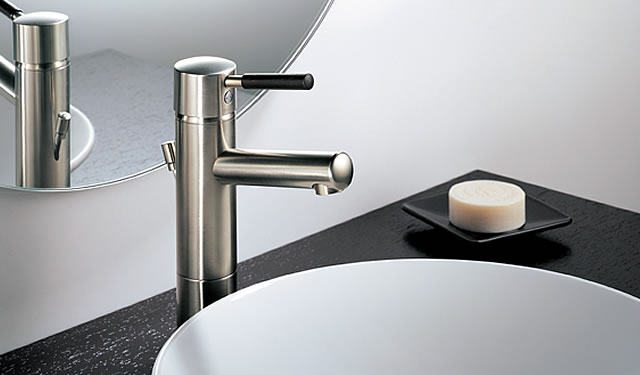 Price / COM_VIRTUEMART_UNIT_SYMBOL_:
Description
BRIZO - Quiessence Collection
The minimalist style of the Quiessence collection brings retro European design to America. It borrows a design philosophy from the 1950s and applies it to the technology found today. Two simple, perpendicular lines intersect creating a bold statement that is accented by handle materials including metal, Maple, or Wenge wood.
BRIZO - Quiessence Collection

Bath - Canadian Price List

Lavatory

Quiessence Single Hole Mount Bath Faucet
Model 6514521-PC
Price as shown: $483.92

Model 6514521-BZ
Price: $701.67

Model 6514521-BN
Price: $677.52

Quiessence Single Hole Mount Bath Faucet
Model 65014LF-PC
Price as shown: $483.92

Model 65014LF-BZ
Price: $701.67

Wall Mount Lavatory

Quiessence Two Handle Wall Mount Bath Faucet
Model 6514728-PC
Price as shown: $677.52

Model 6514728-BZ
Price: $942.20

Quiessence Two Handle Wall Mount Bath Faucet
Model 6514728-PC
Price as shown: $677.52

Model 6514728-BZ
Price: $942.20

Vessel Deck Lavatory

Quiessence Two Handle Wall Mount Bath Faucet
Model 6514728-PC
Price as shown: $677.52

Model 6514728-BZ
Price: $942.20

Diverter Trim and Rough

Modern 6-Function, 3-Port Diverter
Model T60620-PC
Price as shown: $460.21

Model T60620-BZ
Price: $586.77

Model T60620-BN
Price: $574.11




Available Finishes:

Modern 6-Function, 3-Port Diverter Rough
Model R60600
Price as shown: $207.09


Thermostatic Valve

Modern Thermostatic Valve Only Trim
Model T60020-PC
Price as shown: $507.42

Model T60020-BZ
Price: $731.53

Model T60020-BN
Price: $709.08


Available Finishes: