Ameristeam Walk-in Steam Shower 56 x 38
List Priced at $ 5369.00

Dimensions: 56 x 38 x 85

- Standard 110v
- ETL listed (US & Canada electrical safety)
- Computer control panel w/ timer
- Steam sauna w/ thermostatic control
- Acupuncture body massage jets
- Overhead rainfall showerhea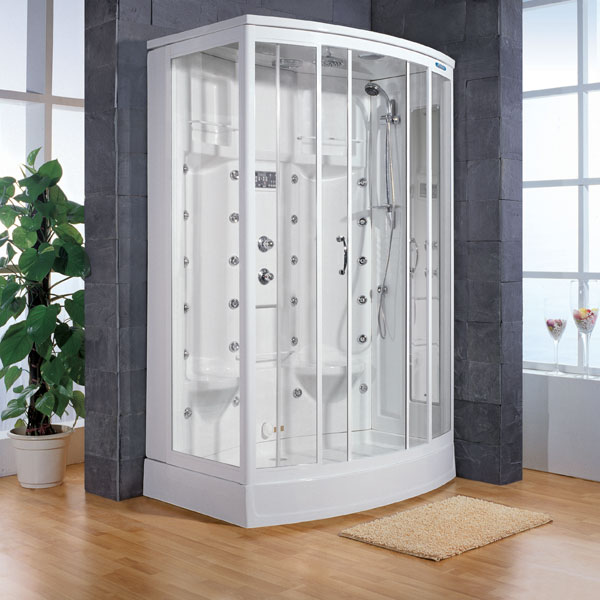 Price / COM_VIRTUEMART_UNIT_SYMBOL_:
Description
Ameristeam ZA213 Walk-in Steam Shower - List Priced at $ 5369.00

Dimensions: 56 x 38 x 85
- Standard 110v
- ETL listed (US & Canada electrical safety)
- Computer control panel w/ timer
- Steam sauna w/ thermostatic control
- Acupuncture body massage jets
- Overhead rainfall showerhead
- Multifunctional handheld showerhead
- Temperature setting/display
- Aromatherapy (scented oils)
- Ventilation fan
- Ceiling light
- FM radio, external CD/MP3 player
- 2 built-in seats
- Available in left / right versions
Enjoy the pleasures of the AmeriSteam P213 steam shower in your own home. These units are fully loaded steam shower enclosures, with a built in steam generator, water pump, radio/CD ready, and much much more for your therapeutic experience. We are confident that you will indulge in a state of complete relaxation and tranquility with all the features of this steam bath enclosure. Look below for all the features and detailed specifications of this steam shower.

The new AmeriSteam steam showers are finally being introduced to the US market. These are the ONLY steam showers to be manufactured with USA components. The complete unit is made from US Lucite, which is one of the world's best-known contemporary material brands.

The outstanding features offered by Lucite products for baths and spas include lasting color, superb surface finish and texture, exceptional strength and durability, biocidal action, design freedom and its warmth to the touch. These features, combined with a continuous program of innovation, close relationships with customers and a focus on service and delivery has meant that Lucite is the preferred brand for many of the world's most prestigious bath, spa and shower brands such as Kohler, Villeroy & Boch, Sanitec, Ideal Standard and Jacuzzi.

The Lucite acrylic backed by fiberglass is 6mm thick, which means it is one of the most solid units in the market.

This is the first steam shower with full acrylic panels instead of the typical pvc.

A steam shower is health giving as well as enjoyable. As a supportive activity, a steam bath is especially recommended to alleviate the conditions listed below by virtue of its high steam content and the general benefits of moist heat. In addition, again as a supportive measure the steam bath is beneficial for persons suffering from: Sleeping disorders, particularly through over excitability, poor skin circulation, dry, chapped skin, muscular tension, muscular weakness in the subcutaneous blood vessels, and sensitivity to sudden changes of temperature. A great advantage of the steam bath lies in its highly beneficial effect on the skin, a feature particularly appreciated by women. The moist heat stimulates the subcutaneous blood flow and cleanses the skin intensively, opening the pores, releasing toxins, removing dead skin and impurities and leaving the skin feeling soft, clean and silky smooth.